Cape Cod Bay Challenge Gets Bigger
The Cape Cod Bay Challenge is put on by a vigorous and talented group of people including the founders–Mike Brown and Bob Babcock (Full disclosure, Bob is my brother). They've been doing an amazing job growing and enhancing the event, both in terms of the people who participate and the participation of sponsors. I've been participating in the core event–the Cape Cod Bay Challenge–for the last three years and I can tell you firsthand, it's the best organized, most fun, most satisfying event I do, and I do a lot of events.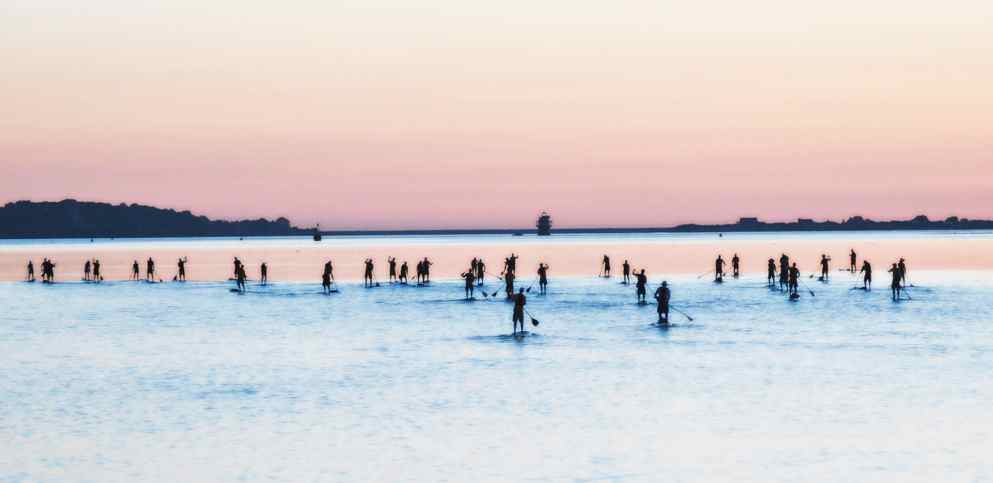 The CCBC's has a lot of sponsors, and they seem to stepping up for more participation every year. I saw the reason last year–the CCBC organizers pay a great deal of attention to giving their sponsors credit, attention and publicity. Besides growing to five events spanning the summer, the CCBC crew has become a 501c3 organization, so they can do a better job of distributing their charitable efforts. In a recent release Bob Babcock said:
"While Christopher's Haven will still be our largest and primary beneficiary we are going to be choosing additional charities this year. For example, Community Boating where we have our Challenge on the Charles race will be getting 6 full setups of standup gear, boards, paddles, PFDs, and leashes. Last year over 2,400 kids went through their summer programs. Our own PonoBill learned to sail there when he was a kid…a long, long, long time ago…. Grin. CB was started in 1936 to teach inner city kids how to sail..needless to say they've touched the lives of lots of kids over the years. Thanks for the generosity of the folks at Kialoa and Naish for helping us do this."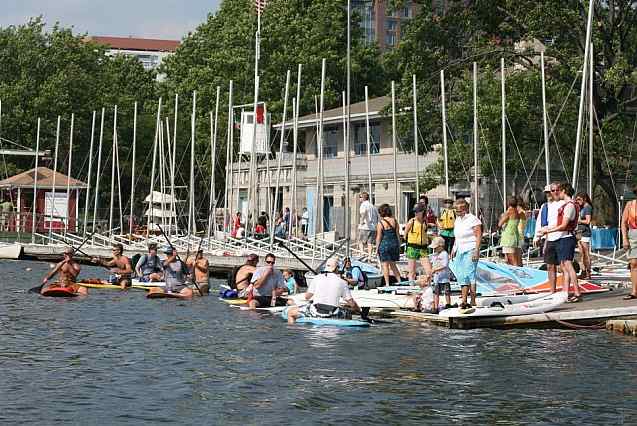 The Community Boat House will be receiving six Naish SUP boards, Six Kialoa paddles, six PFDs and leashes for their Stand Up Paddle Program

This year the CCBC will be advertising their events with two-page ads in Standup Paddle Magazine. "Thanks also to Reid and Fox they've been huge supporters. Our last advertisement this year will be dedicated to thanking all our amazing sponsors, our paddlers, and their donors for the success we know we're going to have in 2011. They really help change the lives of so many. Last year 16 kids lived at Christophers Haven with their families while they underwent treatment for cancer thanks to the support of the CCBC. Our aim is to go far beyond that this year. We're also doing a major redesign of our website. The folks at maintainnet.com are doing a complete pro-bono overhaul….going to be very interactive, lots of features, interconnected with all social media. The focus is to grow the CCBC ohana and give us an online presence to stay in touch" Bob said.

"We have a great board that volunteers an amazing amount of time to this I can't thank all of them enough for helping Mike and I build this into what we see today, and the great thing is they are all stoked to see us dwarf where we already are."
I already have my plane tickets for the 2011 CCBC–Portland Oregon to Boston, Massachusetts. It's a tremendous event and it deserves all of our support. I hope to see you there.